Official Qualification
Master's Degree in Screen Acting
(Official bachelor's degree from the Rey Juan Carlos University)
Duration
1 academic year
(60 ECTS)
Become a performer for the new audiovisual market
This Master's Degree offers postgraduate studies in the field of screen acting aimed at the professional audiovisual medium. Become an expert in acting for film, TV and the audiovisual sector.
Train with artists and industry professionals and live a real shooting experience with a working film director. An official master's degree in which the two facets of actors and actresses coexist: their professional character and their artistic inclination, in connection with their research capacity and the universe of coaching and acting direction.
Receive personalized acting coaching
Improve your acting skills exploring self-image through coaching tools.
Complete your portfolio
Participate in filming practices and specialized workshops with film directors and work in complementary casting and promotion seminars, digital editing of videobooks, professional development and social networks.
Face the complete process of a shoot
Acquire the tools and experience you need to be able to handle the complete filming process.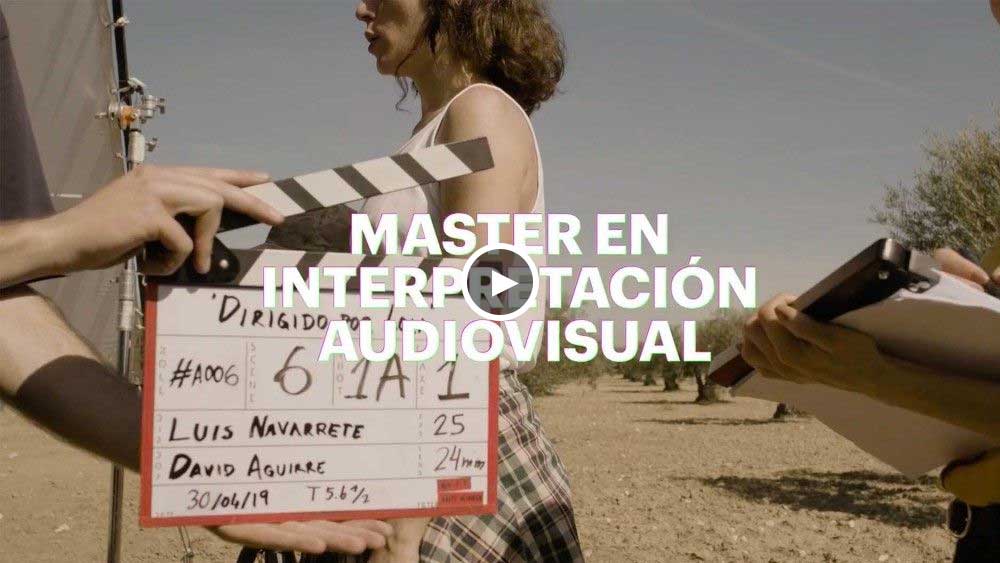 Consult our exclusive financing conditions
En TAI We believe that studying what you like should be easy, that is why we put at your disposal the best conditions to finance your studies: exclusive TAI, adapted 100% to you and with responsible fees.
Request Information
Study Plan
The Master's Degree in Screen Acting is structured around three major subjects: the perfecting of performance tools, specialization in audiovisual performance and theoretical-practical research.
You will work on acting, vocal and movement resources applied to the audiovisual medium, acting techniques for different shots on TV and cinema, instruments for promotion and professional insertion and tools for the development of professional research in the audiovisual field, among other contents.
Subjects
Vocal tools applied to Screen Acting
Physical tools applied to Screen Acting
Advanced Training
Screen Acting Techniques
Milestones of Screen Acting
Audiovisual and Cinematographic Research
Idea Creation and Development Lab
Personal Branding
Research Methodology
Master's Dissertation
Access
Student profile
People interested in acting academically and/or professionally in the television and cinematographic context, either in a direct, research-oriented, or educational way (coach).
People with official undergraduate degrees or other official certifications whose study plan includes the subjects of Humanities, Arts, Communication, Social Sciences and Fine Arts, and people with other degrees that facilitate their access to official postgraduate courses.
People with a XNUMX, XNUMX or XNUMX-year undergraduate degree in Visual Arts, Acting, Performing and Media Arts and/or with an Advanced Degree in Dramatic Art, Music and Dance by recognized schools.
Teachers
Meet our Performing Arts Teachers
Career Opportunities
We live immersed in the culture of entertainment and the audiovisual boom. A global industry that demands performers who are capable of adapting to all genres and formats: cinema, TV series, theater, musicals, video clips, advertising, new media, etc.
Acting
Actor/actress for film, TV and advertising. TV host. Radio and TV broadcaster. Doubler.

Teaching and others
Teacher and/or academic researcher. Communication manager in companies. Advertising model. Casting director for film and TV. Acting coach. Artistic agent. Sociocultural animator for leisure complexes, television and for public and private institutional social and cultural offers.
Facilities






Academic Outlook
Continue your master's studies with a second specialization with which to complement and enhance your professional profile.
Internships at Companies
TAI offers external internships always accompanied by tutorials and prior preparation that give students the opportunity to work in top-level companies.
Suggestions and Complaints

Request information about this diploma.
Master's Degree in Screen Acting. Specialize in screen acting and qualify to start PhD studies.