Julie Delpy
never give up
Actress, singer, screenwriter and film director
"To make movies, you don't have to faint; you have to fight until you find your way of making the film"
Actress, director, screenwriter, singer... Julie Delpy is an all-rounder in the arts whose critical and committed voice serves as a guide for those who embark on the exciting world of audiovisual creation. In permanent creative growth, always courageous in her proposals, her trajectory is an inspiration and her opinions deserve to be listened to carefully.
In his meeting with artists of TAI, Delpy has left a message as precise as it is powerful: "Never give up". It is worth burning this idea into the conceptual foundations of every artist. Julie Delpy's career is an ode to persistence, to struggle, to the love for arts, in which surrender has no place and the result is inspiring.
This vigorous, committed and passionate attitude is what the creator of French origin has been able to transmit during her masterclass at TAI. "Making movies is a passion that is always difficult to carry out." Overcoming these difficulties must be the greatest stimulus for young artists.
Delpy has not shied away from talking about the pitfalls of a profession that involves managing numerous aspects that are unrelated to the simple development of the film. "You have to get the financing and then make the movie," he says. "But the idea is that you never give up and you have to keep fighting until you find your way of making the film," he points out.
That fight and a tenacious vocation are what have allowed him to direct seven feature films, participate in at least a dozen scripts and act in more than sixty productions.
But, above all, that fight and that passion have allowed her to become one of the most respected women in international cinema, admired both in Europe and in the United States, capable of moving all kinds of viewers with her performances, scripts and her admirable way of directing.
Of course, no one says that this was easy: "It took me more than 20 years to make my first film", he has told us. And the process, once again, was an example of perseverance: "I wrote many scripts and kept working until I could do it."
At TAI we are convinced that arts have the capacity to transform society and the people who work in them. Julie Delpy is an inspiring example of this.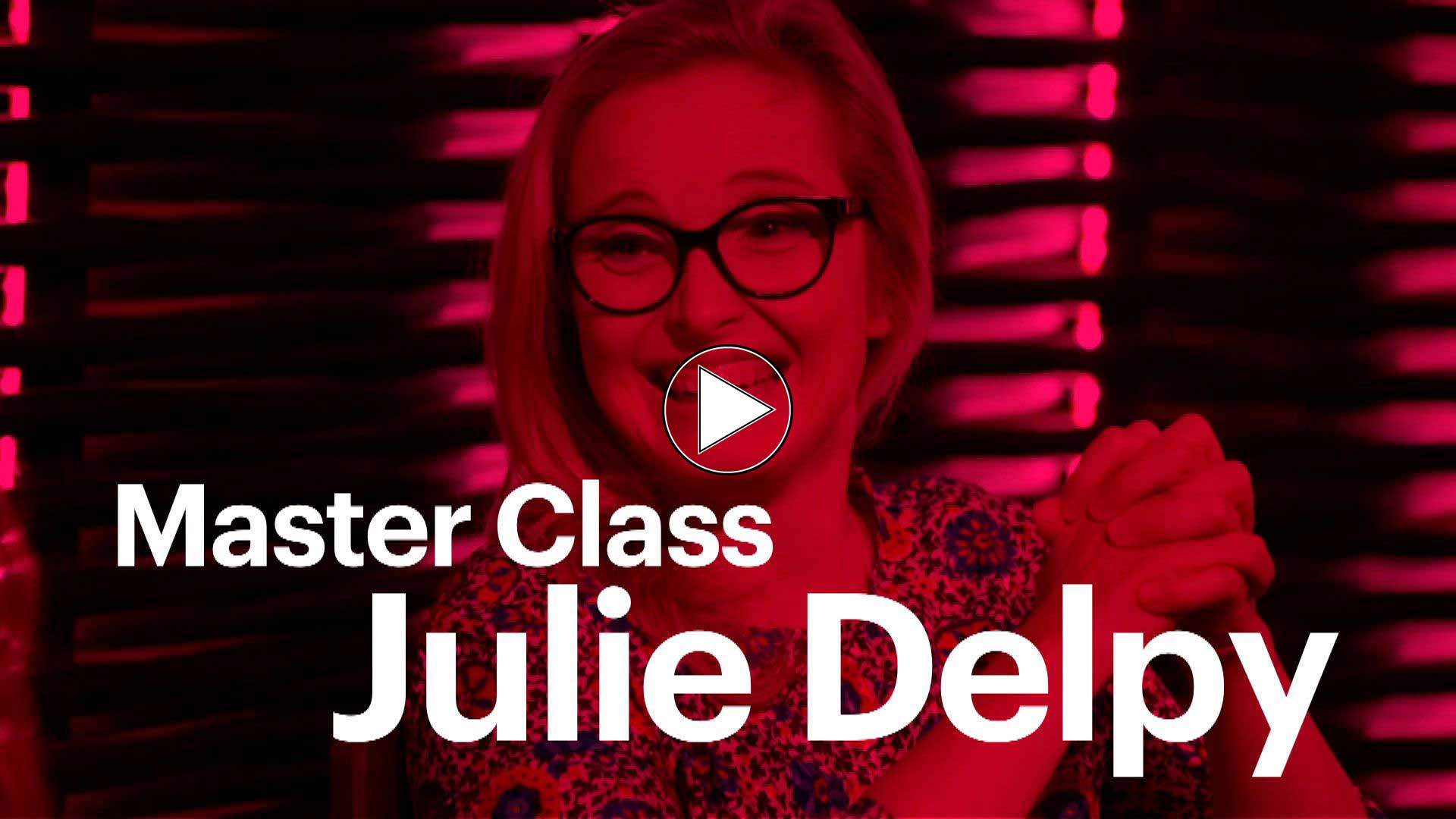 Specialty
Actress, singer, screenwriter and film director
Biography
Julie Delpy was born in Paris in 1969. Since she was a child she breathed art and love for acting. Her parents, Albert Delpy and Marie Pillet, were film and theater actors.
Soon, the influence of his family made him connect with the artistic vocation. And he didn't start out just anyhow, but alongside one of the great French directors of all time. At just 14 years old, he launched his career with a role in Detectiveby Jean-Luc Godard. A few years later, in 1987, another of the icons of French cinema, Bertrand Tavernier, trusted her to play one of the protagonists in his film La pasión de Beatriz. Delpy had entered French cinema through the front door.
However, the role that launched his career will come in 1990 in the film Europe Europeby Agnieszka Holland. Her portrayal of a pro-Nazi young woman who falls in love with a Jew who had posed as an Aryan to survive the Holocaust, made her one of the most sought-after actresses by great directors around the world.
At the beginning of the 90s, he settled in New York, where he studied Acting at the Film School. Since then, she has participated in both European and North American productions.
In 1993, the prestigious Polish director Krzysztof Kieślowski chose Delpy to star in Three colors: White, the second of the films of the emblematic trilogy Three colors.
Two years later, her role as Celine in Before dawn, by Richard Linklater, made her an icon of quality independent cinema. Starring alongside Ethan Hawke, Before Dawn is the first film in a critically and publicly successful trilogy that completes Before sunset (2004) and Before nightfall (2013)
Despite the success, Delpy has always avoided being pigeonholed. The arts are his world and he is able to apply his talents in various disciplines. From a very young age she showed interest in writing scripts and directing and in 2002 she made her directorial debut in Looking for Jimmy.
After her, he has directed 2 days in Paris (2007) The Countess (2009) The skylab (2011) 2 days in New York (2012) Lolo, my girlfriend's son (2015) and My Zoe (2019). Most recently, she has co-directed On the verge (2021), a series of which he is also a co-writer and protagonist.
Critics have recognized her talent with various awards both for her work as a director and a screenwriter. Among her highlights, in 2011, Le Slylab, directed and scripted by Delpy, was recognized with the Special Jury Prize at the San Sebastián Film Festival. Six years earlier, her screenplay for Before Sunset had been nominated for an Oscar, a nomination she repeated in 2014 for the screenplay for Before Sunset.
His artistic sensitivity has also led him to put his creative talent at the service of music. In 2003 she released her first album, called Julie Delpy. In addition, he has composed several of the songs for Before Sunset and has written the music for some of his films such as 2 days in Paris o The Countess.