John Waters
You can't break the rules without knowing them
Filmmaker
«Try every idea, even if it is bad; That's why you're here, to experiment."
John Waters is a creative universe unto himself. A source of creativity in which a mixture of color, sense of humor, transgression and defiance flows. A truly unclassifiable artist who has left us unquestionable samples of his talent and his freedom in the meeting we have been able to enjoy with him in TAI.
Waters was born in Baltimore, like other great geniuses of contemporary culture such as Franz Zappa or Edgar Allan Poe. Precisely the latter wrote a sentence that may well be adapted to the filmmaker. "Those who dream by day are aware of many things that escape those who only dream at night."
Because Waters' creations seem to come from a pigmented dream, sometimes rude, almost always bellicose, and always uncontrollable. What is clear is that with these creations she is capable of taking the viewer to the most incredible of dreams.
And somehow, Waters has managed to project his dreams into his creations. To do this, he has had the invaluable help of characters as excessive as they were formidable from his native Baltimore, such as Divine, that childhood friend of his who has become a benchmark for trans culture, an icon of modernity.
But that daring that he has shown has not always had the best reception. "Early in my career, nobody liked my movies," she says. "I showed them at an art school and they called the police," she tells us with a laugh.
LAUGHTER, SOURCE OF CREATIVITY
And it is that humor is an essential part of Waters' work. A humor that does not disdain to laugh at himself, as he has shown us during his presence in TAI. "For ten years everyone said my movies were terrible," she says. Even that part of the critics that today shows adoration for that underground style did not receive his first works with applause: "Variety magazine said that one of my films was the stupidest that had ever been made, like a septic tank."
His quirky styling also allows him to not take himself too seriously: "My mustache is what gets me jobs," he tells us. And just in case his mustache doesn't exercise enough suggestion in those who can facilitate such works, John Waters has explained to the young artists of TAI that maintains great autonomy with the industry: "I distribute my films," he explains. And he makes a recommendation: "Don't sit around waiting for someone to tell you: Do you want us to distribute the films?"
John Waters is the best example of the importance of having your own personality to define a work. "No matter how good you are, how fantastic you are as an artist, you also have to know what to do with it."
And in that, the process of learning, research, performancepeña a fundamental role: "You have to participate. If you want to be an artist, go to all the galleries. If you dedicate yourself to the cinema, see all the films. If you want to be a writer, read every book," he advises. "You have to know what's selling and what's new," she says. "Because you can't break the rules without knowing them."
EXPERIMENT AND DO THINGS IN ANOTHER WAY
During the meeting in TAI, the director of Pink Flamingos has insisted on the importance of trying, of daring, especially when young artists are beginning to develop their concept, their idea, their personality: "Try each idea, even if it is bad; That's why you're here, to experiment."
And from these attempts it is when it will be possible to define that personality longed for by the creators. "I don't think it's all made up," Waters tells us. "It is in your power to find a new way of counting things", he indicates. And about the insecurity that any artist can feel when creating something new, he points out that "anyone who is dedicated to the arts is someone insecure." So, starting from this premise, his advice is clear: "Don't be afraid of rejection."
And to top it off, a warning full of hope: "You're not going to fit in, it's going to be hard," he observes. But it's worth it. Because? Waters is more than clear: "You're going to find a way that you never have to have a real job," she says. "You are going to be an artist!" he concludes.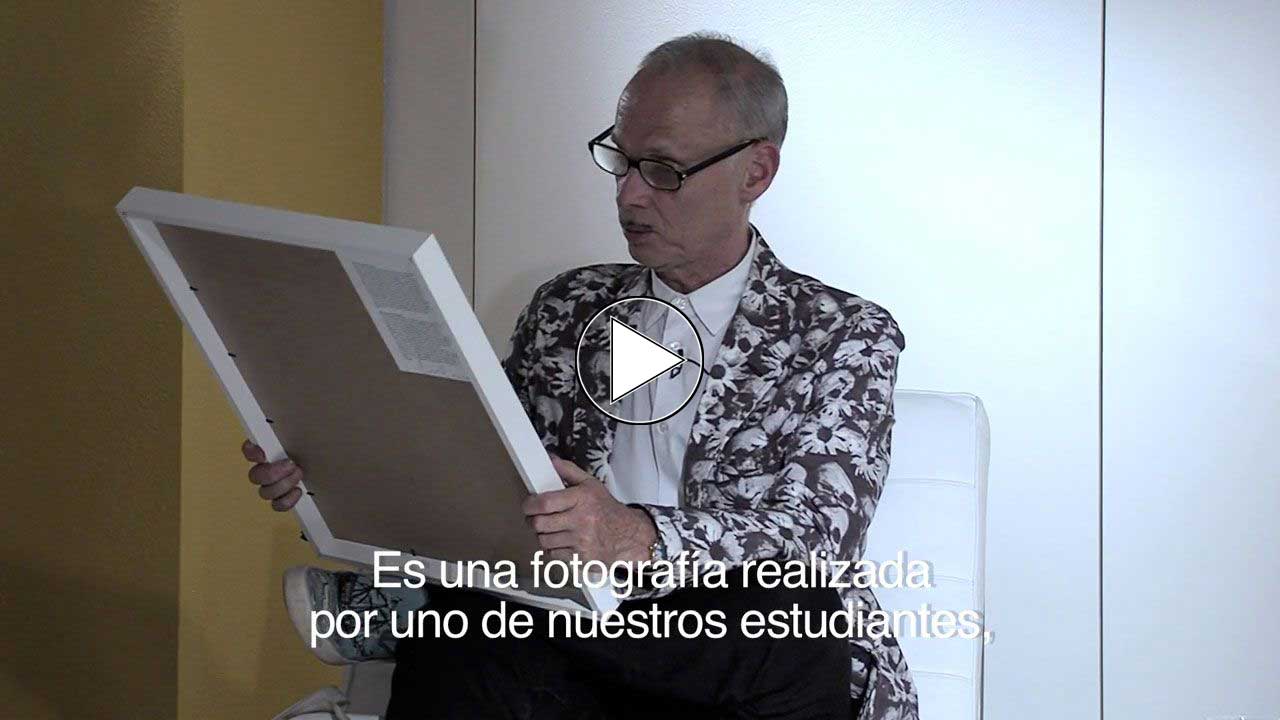 Biography
John Waters was born in Baltimore in 1946 and this North American city, which he has parodied so many times, has become his main source of inspiration. From her have emerged the excessive characters that populate his films, such as his group of friends known as the Dreamleaders, who have appeared in much of his work.
Member of an upper-middle-class family, Waters grew up in Lutherville, a suburb of Baltimore. It was there that he met his childhood friend Glen Milstead, who would become the muse of his best-known films, Divine.
At the age of 16, his grandmother gave him a gift that changed his life: a Super 8 camera. And from there he discovered his vocation: he wanted to tell stories with that camera, but stories that were far from conventional. To continue her training, she moved to New York, studying at New York University. She was not what she expected and she was not long back in Baltimore.
AN UNDERGROUND ICON
In his hometown, Waters began shooting his films with a group of people from the Baltimore underground scene, the group known as the Dreamlanders, whose most recognizable figure is Divine. His films stray from convention, are oblivious to decorum and present a script and characters full of excess and scandals.
The unclassifiable Pink Flamingos (1972) is today a cult work, idolized by many, hated by many others. Some explicit acts present in the tape continue to generate controversy about the limits of creation. Together with Female Trouble and Desperate Living they are part of the so-called trash trilogy.
Trash cinema is precisely the usual denomination with which Waters' cinema has been called, although he has confessed that he considers this term already too hackneyed.
Unexpectedly, his cinema went from being attacked as rude and irreverent to beginning to attract the attention of the industry, to being accepted as a groundbreaking figure, irreverent, but accepted, after all.
Little by little there is an improvement in the production of his works and he begins to interest a wider audience in films such as Hairspry, Crybaby, Mom's lovers or Cecil B. Demented. In them she works with great stars of the time such as Johnny Depp, Kathleen Turner or Melanie Griffith. His last film, Los sexoaddictos, dates from 2004.
A TOTAL ARTIST
John Waters' creativity is not limited to directing. Actor, writer, photographer and teacher, Waters moves like a fish in water through pop culture and underground culture, even becoming a character on The Simpsons.
In addition, he has positioned himself as an activist in favor of equality, receiving the Stephen F. Kolzak Award in 2004 for his commitment in the fight against homophobia.
In 2019, the Locarno Film Festival awarded him the Leopard of Honor in recognition of his entire film career.
Links of interest