Isabel Coixet
I like that the film changes every day, that it is something alive.
Filmmaker
"My theme is loneliness: how we live it, how we fight it, how it marks us"
"The world is wide", Isabel Coixet tells us, and putting limits on creativity is not an option for her. Much less if it is about cinema. That is why she has directed films in Spanish, English and French. Coixet uses the languages ​​she knows interchangeably, because she expresses herself in the universal language of cinema. And she controls it so well that she has been recognized with the 2020 National Film Award.
With a career marked out by films, awards and creativity, Coixet has gone through the University School of Arts TAI to describe his shooting dynamics, the secrets of his career and offer a series of suggestions for young artists based on his experience.
His first contact with the world of audiovisual creation came somewhat by chance, since "I come from a family where there was no connection to cinema," he tells us. "As a child they gave me a Super 8 camera and I started making domestic shorts." And from that camera and with that childish enthusiasm, Isabel began to develop her creativity.
"Because of those things of fate, I started working as a creative in an advertising agency," she recalls. "The agency had a production company and I began to watch shoots, to study how some of the great cinematographers lit, to see how things were done, how they were edited, how they were staged," she says.
SUCCESS FROM HONESTY
Tenacity and honesty with herself, these concepts define two of the values ​​on which she has based her career and which she has recommended to young artists from TAI: "I always do what I think I have to do", he comments. "The way I am, I think it's a real miracle that I've made so many movies," she says.
"In this sense, I can say that I have had some success. Sometimes that stubbornness and that kind of defense of freedom at any price has made me not do certain things or do other things that have not been well understood ", he confesses. "But you also learn to ignore the opinion of others. Things hurt more before. Now they irritate me, but they don't hurt. That for me is a great success, "she admits.
"I could have chosen to do commercial comedies in Hollywood, which offered me a few," he says. "But since I was little I have felt the tendency to choose the dangerous and curvy path. I think it is something innate, I look for the difficulty, and sometimes it happens to me, "she says. "My life could be a little easier. But the goat throws into the mountain… and my mountain is steep".
Isabel Coixet has confessed to the young artists of TAI longing to have been part of a film school in its beginnings: "I never went to a film school and one of the things I miss is having people with whom I can share points of view, stories, things I would like to tell" .
And it encourages people to live with enthusiasm, to taste their first steps in the world of cinema: "Being a young filmmaker is the most fun thing you can be at this moment in the world," he says. "Being about to learn all the tools that will allow you to tell stories must be a great experience."
Any advice for young artists studying in TAI? "There is little advice: don't put your own money into your movies, don't listen to the critics," she warns. But above all, a suggestion: "above all, tell stories that are close to who you are, not who you would like to be".
A CINEMA OPEN TO THE PARTICIPATION OF THE SPECTATOR
Because that is a fundamental part of Coixet's work, that the public has an active involvement in his films. In this sense, he assures that his cinematographic concept has been evolving. "I feel more and more like leaving loose ends in my films," she confesses.
"Before, I was very worried that everything would shut down. Now, based on my experience as a spectator, I like to keep thinking about the film and for the film to change the next day, for it to be something alive". And this has a lot to do with her experience as a spectator. "There are times when I see that the scriptwriter and the same director are talking about themselves through the mouth of a character, I disconnect," he says.
In his talk with the students of TAI Various questions have arisen about the subject matter of his creations. Is there any theme that hovers over him in his filmography? Coixet points out one: "In the end, loneliness is more than love, how we live it, how we fight it, how it marks us," he reflects. "That feeling of being born alone and dying alone and that what we live in between is a kind of fleeting company is my theme. More than love, "he observes.
But the long career of the Barcelona director does not stop at fiction, but has also been incisive in analyzing current affairs, directing documentaries on very diverse and sensitive topics such as the situation in Chad or the situation of the Spanish judge Baltasar Garzón. "When I make a documentary I seek to know", she tells us. "So far they have been very specific creations. For example, when I did the one on Chad, she observed that the memory of the victims was being erased. When I shot the one with Baltasar Garzón it was at a time when they were trying to remove him from the judiciary and I think there was a legal path that had to be respected, "she explains.
COIXET AND THE WOMAN
The female protagonists of Coixet's films stand out for their naturalness, they are women of all ages, who do not have to respond to the canon of beauty that appears in many other films. "For me it is something natural. In the end, each director takes people who somehow finds attractive, even if they do not match the canons of beauty. manifest. "I see some actresses and I say, the same is good, but there is something that I do not believe." One thing in this sense she is clear: "I have never sacrificed something that I wanted for the sake of it being commercial."
On the other hand, Isabel Coixet admits she is fed up with the concept of women's cinema. "I carry it with tremendous fatigue. Although it is true that, at the same time, promoting the concept of the feminine gaze is important, because we are half of the world and without us, the world's gaze is not complete", she points out.
But, beyond this claim, it stresses the need for the author's role to be recognized, whether or not she is a woman. "It is important to stand up for your vision, because you are not only a female filmmaker, but you are yourself. That is where the role of author comes in, "she defends." Everything is delicate, but in the end you get used to it, I think it is becoming more and more diluted and the ghetto where they sometimes put us has a barrier that I think will soon dissolve", she indicates.
A PARTICULAR FORM OF SHOOTING
For Isabel Coixet, being on the front line is essential. with the community TAI She has shared that she is the camera operator herself in the films she directs: "I am always the operator of my films. On all occasions I have maintained a very fluid relationship with the photo and lighting people. I have always thought that I could make a living as an operator for other directors, "she confesses. The reasons are simple: pragmatism and fun. "Above all I do it because I don't see anything on the monitor and, besides, I find it much more fun. I like to start rehearsing with the camera. I think every director has to find his way."
Precisely, running away from boredom also determines his way of shooting. Isabel Coixet escapes from the eternal filming. "It's just that I get very bored if I do a lot of takes," she explains. "Also, I think that when it happens that in the third take everything is not correct, there is something in your approach that is not right."
For this, he always surrounds himself with trusted people on filming, although he does not have to repeat the team with which he works. "There are a lot of people I want to work with and I do it as soon as I can. There are a lot of people I like and they do things very well and it's really hard to work with all of them." Isabel is very clear about what she wants from the people she collaborates with: "I want to work with nice people, with whom you can have a drink, who take their work seriously, but not themselves".
What is very clear is that he prefers to direct his own scripts. "I know that I can direct someone else's script, and yet I feel more comfortable directing my stuff, my scripts, whether they are original or adapted. It snows in Benidorm is an original script, but, for example, The Library was an adaptation. I respect scriptwriters a lot and when directing someone else's script there is an servitude that I just don't see, "she explains.
He has also delved into the difficulties of production and the admiration that this work arouses in him: "I admire producers a lot, because I understand that it is very difficult. It is about selling the product with festivals, international sales agents. It's very complicated."
There are many aspects that must be controlled for a producer. "Producers have a lot to do and a lot to move that escapes me, especially in Spain. You have to make such balances between the ministry, the television… They tell me and I don't quite understand it".
And to conclude, nothing better than highlighting that film that he remembers most fondly. It is always difficult for a filmmaker to choose, but Isabel Coixet is committed to Things I Never Said to You. Because? "It was a film that I was dragging and writing for a long time and that went through all the producers and distributors in Spain and nobody saw it," she recalls. In addition, "it is a film in which those things that no longer exist, such as telephone booths, appear. Also, at that time people thought it was a bit 'martian' that we were shooting the film in English," she asserts.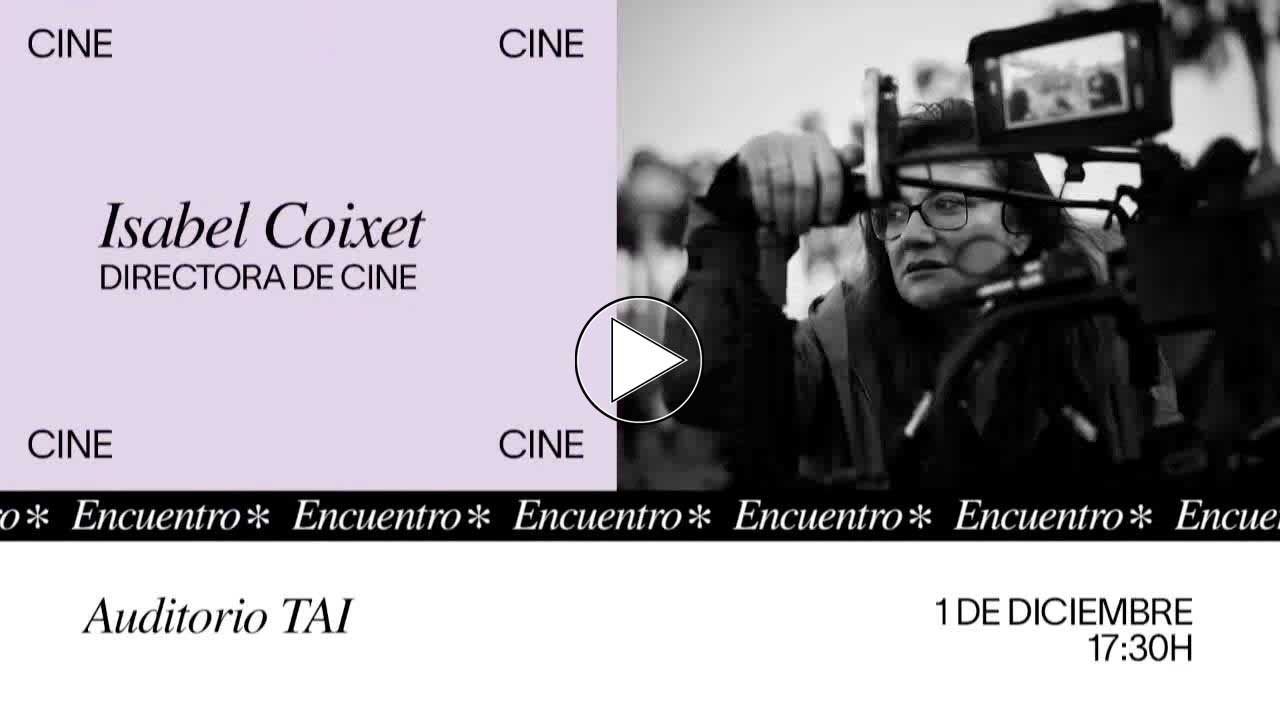 Biography
Isabel Coixet was born in San Adrián de Besós in 1960. And very soon, with the Super 8 that they gave her for her communion, she began shooting her first shorts. After working in an advertising agency, she shoots her first feature film, for which she is also a screenwriter, in 1988. Her title: Too old to die young. With him she was a candidate for the Goya award for best new director.
It was eight years later when his films reached the general public and received the first praise from critics. It was thanks to an intense and daring drama, shot in English, and starring American actors Lily Taylor and Andrew McCarthy. With Things I Never Said to You, Isabel Coixet was again nominated for a Goya, this time for best original screenplay and received prestigious awards such as the Sant Jordi for best Spanish film or the Fotogramas de Plata for best film. The Círculo de Escritores Cinematográficos awarded her with the award for best screenplay of the year.
With a career that is constantly growing, in 2003 he once again used English and internationally known actors to give shape to his most successful work to date, My Life Without Me. In this emotional feature film, Sarah Polley played a woman discovered to be terminally ill who decides to make a list of the things she wants to do before she dies and prepare everything for family life after she passes away. After several nominations, Coixet was finally able to receive a Goya award, this time for the best adapted screenplay. She was also awarded at the Sant Jordi awards and those of the Círculo de Escritores Cinematográficos.
Two years later, he repeated with Sarah Polley as the lead in The Secret Life of Words, with an international cast including actors such as Tim Robbins and Javier Cámara. The film tells the story of a lonely young woman (Sarah Polley) who gets a job as a nurse on an offshore oil rig and who must care for a worker who has lost his vision after an accident. The Secret Life of Words was the big winner at the 20th edition of the Goya Awards, winning four awards, including best film and best direction.
In 2008 he directed two great international stars such as Penélope Cruz and Ben Kingsley in Elegy, the story of the romance between a veteran university professor and a young student. Elegy was presented at the Berlinale and its two protagonists received several awards for their performances.
And from the Berlin Film Festival, a year later, Coixet's cinema came to Cannes with Maps of the sounds of Tokyo, which competed for the Palme d'Or at the 62nd edition of the Festival. The Japanese actress Rinko Kikuchi and the Spanish Sergi López were its protagonists.
In 2014, Yesterday Never Ends, directed and scripted by Isabel Coixet, became the great winner at the Malaga Festival, where it won four silver Biznagas. An attempted drama, also produced by Coixet, and in which the work of the two protagonists, Javier Cámara and Candela, stood out above all. Peña.
In 2015, he opened the Berlin Film Festival with Nadie quiere la noche, a production between Spain, France and Bulgaria starring Juliette Binoche and Rinko Kikuchi.
In 2017, he premiered a film version of Penelope Fitzgerald's novel The Bookstore. The script, adapted by Coixet herself, received the award for best literary adaptation at the Frankfurt Book Fair. The film got more than three million euros at the box office in Spain, being one of the sensations of the year. A positive reception from the public that coincided with its critical reception, being nominated for twelve Goya awards, of which it received three, including Best Director. Isabel Coixet became the first woman to receive two Goya awards for best direction.
Elisa y Marcela (2019) tells the story of the first homosexual marriage registered in Spain, in 1901. Produced by Netflix, it marked the first collaboration of the filmmaker with the streaming platform. At the end of that same year, Isabel Coixet premiered the first Spanish fiction on HBO, Foodie Love. Coixet directed and scripted the eight episodes of this comedy in which love and gastronomy form a succulent duo
At the end of 2020, Nieva premiered in Benidorm, a film that he presented in TAI, starring Timothy Spall and Saraita Choudhury.
Coixet's prolixity has not only focused his career on fiction. Isabel Coixet has also shown interest in delving into the most current issues. Listening to judge Garzón or Marea blanca, shot 10 years after the Prestige disaster, are good examples of this. In 2014 she filmed Talking about Rose. Prisoner of Hissène Habré, narrated by Juliette Binoche and which gives a voice to the victims of the terrible dictatorship in Chad and which highlighted the efforts of these victims to bring the country's former dictator to justice.
His versatility can also be seen in other projects, always related to the visual arts, but not specifically to the film industry. At the 2010 Shanghai World Expo, she was in charge of developing the content of one of the three rooms of the Spanish pavilion at the show. She was also the director of the Spain in a day project that collected domestic recordings sent by thousands of Spaniards to try to document the reality of the country during a single day.
NATIONAL FILM AWARD
Isabel Coixet received the 2020 National Film Award in recognition "of a career spanning more than three decades characterized by opening new paths in Spanish cinema."
The prize is awarded by the Institute of Cinematography and Audiovisual Arts (ICAA), an organization attached to the Ministry of Culture and Sports. The jury highlighted that Coixet "is a filmmaker who stands out for her freedom to choose subjects, her courage to assume risks, his non-conformity, his versatility and the international projection of his work. Her support for a new generation of filmmakers, her commitment to equality and social causes, make her an essential stimulus and reference ".
The jury concluded its argument with a forceful thesis: "Spanish cinema would not be the same without the cinema of Isabel Coixet".