David Fincher
Cinema is a risky, exciting, imperfect and emotional medium.
Filmmaker
"If you have to dig a little deeper to get great, one more take, one more try, it's worth it"
Filmmaker David Fincher has given an exclusive master class at our headquarters to discuss his distinguished film career.
The meeting with the director of Seven, Fight club o The social network is part of TAI International Master Classes Cycle thanks to which John Waters, David Lynch (both in collaboration with the Rizoma Festival) or Spike Jonze have visited the school.
An encounter with a fundamental artist of North American cinema whose artistic career has been consolidated on an impeccable cinematographic tradition and the revaluation of action thriller, an essential genre in today's audiovisual industry. As a director, David Fincher has managed to turn each project he undertakes into an impeccable work of his own making thanks to his language and audiovisual style, which makes him a benchmark artist for the training of new filmmakers and creators.
LEARN FROM MISTAKES
The great master of contemporary thriller entered the world of cinema working directly in the industry in different trades. He states that at that time he was more interested in "the tactile", while most of students wanted to pursue directing or acting. "I think I learned best from mistakes. I didn't want to learn conceptually or theoretically." The value of practice and the importance of learning all the trades of filmmaking before choosing a major is one of the hallmarks of our film and audiovisual arts studies.
David Fincher started out working at an animation production company in Mill Valley, moving machines, in the photo lab, and doing all sorts of support work. He progressively rose to other positions as an assistant director and participated in animation and motion control work. Later he worked at Industrial Light&Magic in go motion, the predecessor of computer-generated images, and in the matte painting department, where he felt he was "the link between various disciplines", highlighting the importance of interdisciplinarity, one of the essential values of TAI. For the director this was an excellent place to learn because he always had to find new ways of doing things.
After these experiences, he began directing small commercials and video clips until he was offered his first film, Alien 3. Although he feels that it was not the opportunity he was waiting for nor was he prepared to handle a project of these characteristics, it was a significant learning process about how the industry works in Hollywood. He stresses that for him the most important thing a filmmaker can have is "the ability to express his intention". In this sense, he advises our students to develop the ability to know how to specify the ideas of their creations and what exactly they want to achieve in order to negotiate and work with the rest of the team: "It is very important to be able to seduce, guide, reason and excite people with your intention. You have very limited time to get your point across and being concise is a hallmark of quality for a director".
THE IMPORTANCE OF DETAIL
David Fincher is a director known for the perfectionism in his work and the importance he attaches to the quality of details. However, he believes that it is not so much about perfection as about the power that cinema has as a medium and the responsibility of the filmmaker towards the public: "Cinema is a risky, exciting, imperfect and emotional medium by nature. A group of people, mostly strangers, are sitting in the dark and giving you access to their minds through their eyes and ears for about two and a half hours. It is a huge responsibility. And for me directing is not so much what you want to see, but rather, during the day of shooting, it's more about limiting everything you don't want to see so as not to divert the audience's attention".
Likewise, the director highlights the importance of teamwork, considering that the key when creating a good film is being able to achieve synchronization between all the people who participate in a production so that the public can really connect with the work. and the ideas that are intended to be conveyed. It is about "removing obstacles between the intention and the communication of an idea" so that "unknown people feel something concrete simultaneously."
Regarding his work in series like The House of Cards o Mindhunter, David Fincher highlights the potential of the small screen to explore new narrative formats: "Television is the only place where you can talk about characters, because in the cinema there is no time to develop them, movies have become pornography of destruction ".
The thriller master once again insists on the importance of teamwork in the cinema and of each one of the professionals who participate in a production. He defines the creation of a film as a "three-dimensional chess" in which everything must fit and be at the service of the work, including the actors and actresses: "I have enormous respect for actors. It's one of the hardest things you can do, splitting your consciousness so you don't think about what you're doing and, at the same time, worry about how it's being perceived. But beyond that, I don't put them on a pedestal compared to the cameras or the writers. I don't trust actors who don't listen to others."
For Fincher, the most memorable performances are those by performers who are "believable, sincere, and present to everyone around them," who connect not just with the camera, but with everyone they're working with. For this reason, the filmmaker, showing off his meticulousness, affirms that this type of interpretation represents an act of generosity: "If you have to dig a little more to become great, with one more take, one more try, it's worth it." ".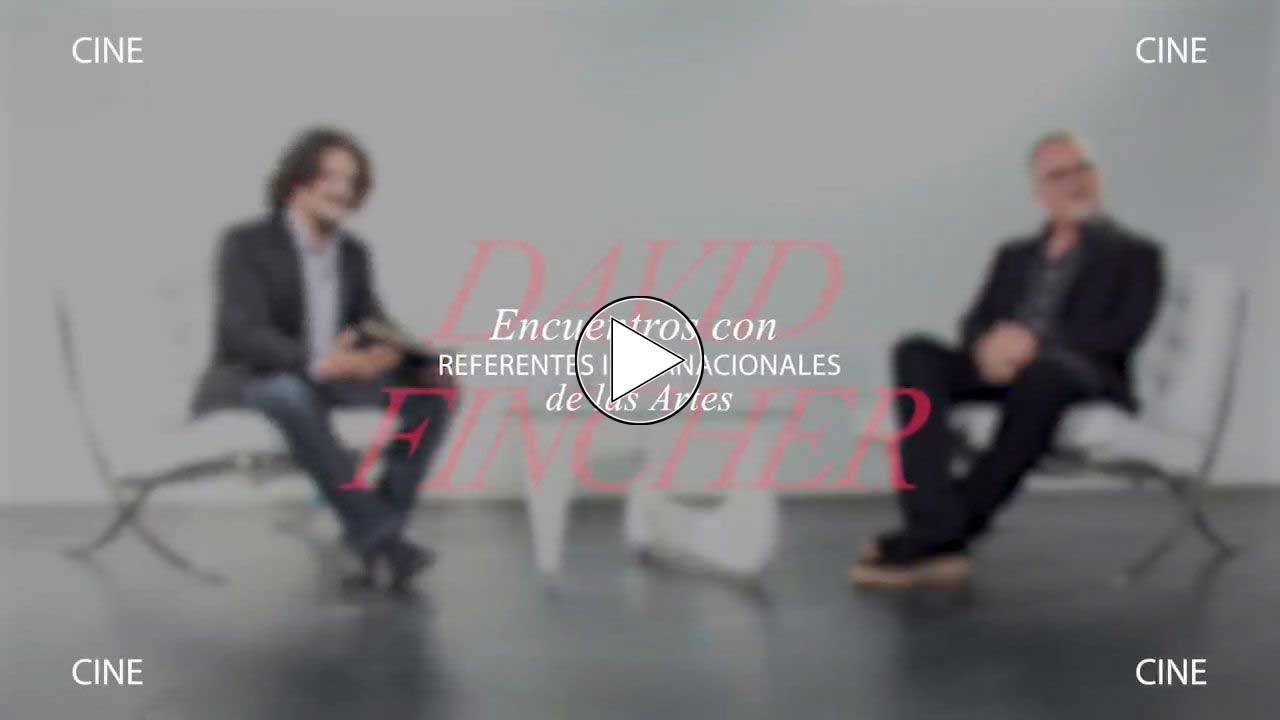 Biography
David Andrew Leo Fincher (Denver, Colorado, August 28, 1962) is a director and producer of film, television and video clips. Known for his powerful imagery in his films, Fincher is one of today's most innovative directors.
After completing his high school education, Fincher worked for Korty Films on the animated film Twice upon a time (1983). Subsequently, he joined the team of the special effects company Industrial Light and Magic, where he worked on such blockbusters as Return of the Jedi (1983) o Indiana Jones (1984)
He continued developing other projects directing advertising spots for brands such as Revlon, Converse, Nike, Pepsi, Sony or Levi's, with which he gained a great reputation for his avant-garde work. Likewise, he began making video clips with artists such as Madonna or Aerosmith and founded the production company Propaganda Films in 1986.
From Alien to the Rolling Stones
He debuted as a film director with Alien 3 (1993), although he continued to direct music videos and do publicity. In 1994 she won a Grammy Award for the video clip love is strong of the Rolling Stones. The following year she released the thriller Seven, starring Brad Pitt, Morgan Freeman, Gwyneth Paltrow and Kevin Spacey, obtaining a great box office success.
In 1997 it would arrive The game, while in 1999 Fincher ventures into dark and complex territory with Fight club, starring Edward Norton and Brad Pitt. In 2002 it premiered the panic room, with Jodie Foster and Kristen Stewart. Three films characterized by their originality and the personal stamp of the author, highlighting especially the literary adaptation of Fight club, a film with a high existential content elevated to the category of cult film.
In 2007 the premiere of the detective film Zodiac at the Cannes Festival it was very well received by critics, being considered one of the most important films of the year on the international circuit thanks to the quality of the pre-production and research work.
Next, Fincher tackled one of his most difficult projects with the film The Curious Case of Benjamin Button (2008), based on a story by F. Scott Fitzgerald. With a great mastery of cinematographic technique and technology, Fincher managed to capture the attention of critics and spectators, obtaining 13 Oscar nominations and consolidating himself as a filmmaker with his own personal style that distinguishes and differentiates him within commercial cinema.