Wills, the feature film by Joaquín Carmona, comes to the big screen
The talent TAI continues to bear fruit outside of school and one more example of this is Wills, el feature film starring Fernando Tejero and directed by the alumni TAI Joaquín Carmona that premiered on June 30 in theaters across the country.
"For me it has been key to learn to make films with such a high degree of professionalism that they instill in you in TAI since the first day" - Joaquin Carmona
A few years ago, when this film began shooting, Carmona, who studied the Diplomas in Cinematography, He paid a visit to the School and gave us his time to interview him about his experience that, finally, this year has seen the light.
At that time, when the film was just the beginning, Carmona, who admires Fernando Tejero, already assured that the actor "He was born for this film."
According to Carmona, being able to count on an actor of the category of Fernando Tejero is "A luxury that I still can't believe myself." "We are building the character so that he shines and we can enjoy the acting quality of him in all his glory. He is a deep character, full of nuances and with a very powerful conflict. The most beautiful thing is being the passion and involvement that he is having with the project and with us ", She said
Their relationship originated more than 10 years ago when they coincided in the filming of The spark of life, of Álex de la Iglesia, in which Carmona was an assistant director.
Wills es "a thriller-like drama" which talks about second chances, forgiveness, redemption and what a father can do to win back the love of a child, as described by the director.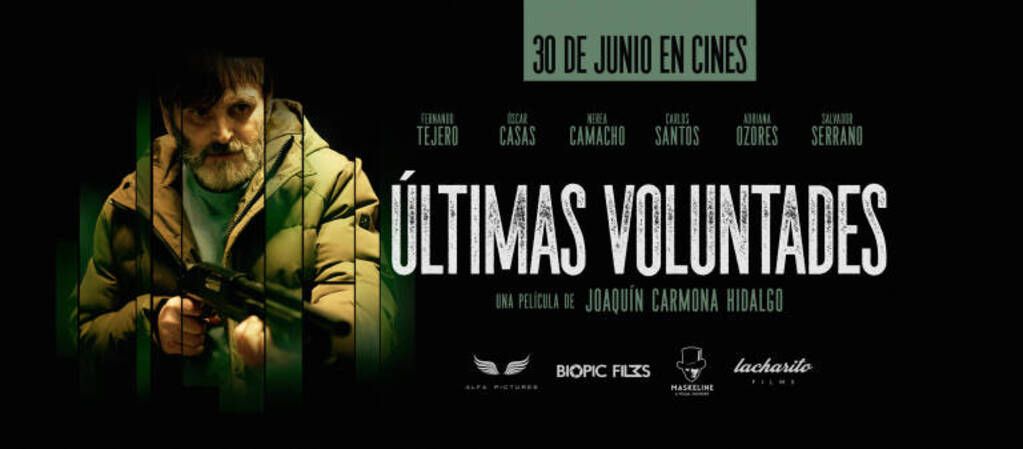 the script of Wills is the result of seven years of work on the original piece by the screenwriter and actor Salvador Serrano. "We knew that it was a very complicated task that we had ahead of us, that it would take us a lot of time and sacrifice, but also that if we wanted to carry out a film project one day, no one was going to come to do it for us ", explained the director.
"If we wanted to get a film project off the ground one day, no one was going to come do it for us"
From the hand of his producer Biopic Films and, later, with the collaboration of the production companies maskeline y The Charito the project has been carried out in a triple co-production.
A professional leap for an alumni TAI

From shooting short films to embark on a feature film there is a big step and this challenge has made the director very excited.
"It is something that all of us who aspire to make films have in mind: having the opportunity to one day make a feature film. Most of the stories that go around our heads, both for the writers I work with and for me, are stories that require character development and maturation, so we feel very comfortable at the moment with the development of this feature film project. And, logically, with much more pressure and responsibility than with a short film", explained Carmona.
Joaquín Carmona's passage through TAI
Shortly before completing his studies in Journalism, the director remembers a sleepless night, in which while surfing the Internet, he found the website of the University School of Arts TAI. "I stopped at TAI, I looked a little on the web and did not look for more. The next morning I told my family that I wanted to go to Madrid to study film."he added.
"Training at a film school is, I think, "the best way to enter the sector". "Coinciding with people with your same passions, concerns and desires is the best way to develop a talent".
The director assured that receiving film training "It's basic", especially "in a field as technical as this art is". This is how the alumni TAI He values ​​his learning process, since it has directed his steps and has allowed him to get where he is. Above all, remember the teachers who have marked their development and that the director calls "unforgettable" like José Luis Escolar, Paco Lucio o Miguel Juan Payan, among others.
"Without a doubt, that my passage through TAI It has helped me be where I am today. My interest in telling stories was there from the beginning, but my first steps in the cinema were there and for me it has been key to learn to make films with such a high degree of professionalism that they instill in you at school from day one. All practices are carried out as professional projects, following all the natural processes of any project.", he assured.
Art and culture
This alumni showed himself to be a great defender of art and culture in society. "I practically equate it to basic necessities. Society, in general, is not aware of the importance of art, of the beauty generated by the human being. It is food for the soul and for the conscience.", expressed.
"The most important quality that someone who wants to dedicate himself to cinema must have is a great capacity for sacrifice", in which, ideally, the artist has a lot of patience and does not lose "Humility, Honesty and Transparency", He said.
A piece of advice for young artists
The recommendation that Carmona would give to young artists is the same one that Will Smith gives to his son in the famous film Looking for happiness: "Never let anyone tell you that you can't do something. If you have a dream, you have to protect it. People who can't do something will tell you that you can't either. If you want something, go for it. And period".
Murcia, his hometown, chosen to host Wills
The project has chosen Murcia, the land where Carmona was born, to shoot the feature film. "When more than 15 years ago I went to Madrid to study cinematography at TAI, I made it quite sad thinking that in order to dedicate myself to the cinema I would have to do it far from my land and my family. A few years later, life circumstances brought me back to Murcia. I understood then that the challenge was no longer just trying to dedicate myself to what I love, but doing it in a region where there was everything to do in this sector", he explained.
According to the director, Murcia is a city "perfect for developing film shoots". "It is one of the regions with more hours and better quality of light; there is a great variety of natural locations for all kinds of projects, movie studios, regional television, good infrastructures and good professionals", he pointed out.