This was the arrival of Gustavo Santaolalla at the School TAI, a day to share and learn from a teacher
"I was never guided by the narrative of the established"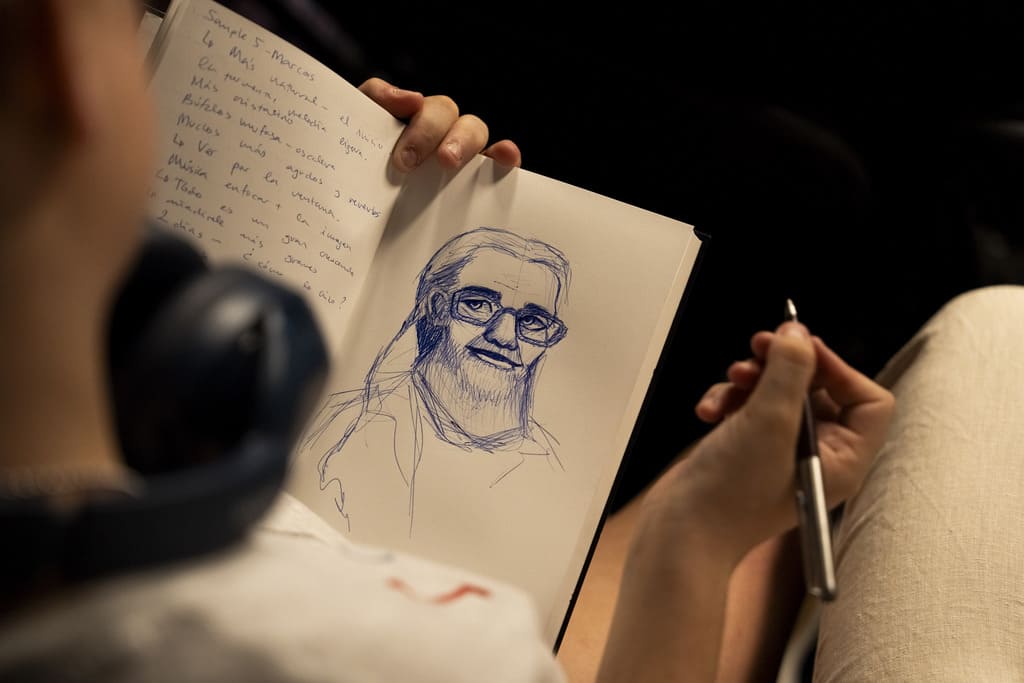 For those of us who watched the harrowing, raw, and interwoven narrative of the crossover stories of Dog loves, debut feature by Alejandro González Iñárritu (1999) and we fell in love forever with its original soundtrack, the presence of Gustavo Santaolalla at the School TAI it was a real gift.
An electric guitar with some chorus and tremolo effect, pulling chords that, apparently, almost give the sensation of going to nothing but, in their spaces, weave and complete each other through the silences like a puzzle; as well as the narrative style of the film itself and, since from that first work the identity and musical and artistic entity was already well defined, which he has been giving to each cinematographic work in which he has been participating, from then until the video game The Last Of Us.

But not only for those of us who have followed his film musical career from the beginning, because his music, work, and artistic and creative multifacetedness have transcended generations, genres, and formulas that, even while within the system, were never guided by the narrative of the established, and that it is very snoring.
Silence: structural and narrative element in music
"It is more important to know when to be silent than when to play" - Gustavo Santaolalla in TAI

The day began in the morning with a face-to-face and exclusive workshop with which we were fortunate to be selected to participate in the project. Musical intelligence, project driven by TAI and sponsored by Santaolalla himself.
The aura of glamor and mythomania that can be assumed to be caused by a benchmark artist of such international magnitude and who, among many other things, has won two Oscars, dissipated the moment he sat down in his chair and had a first contact visual with those of us who were present there, with a clean, illuminated look and even though playful, innocent. As if that intuitive child who started making music was the one who had brought him there over so many decades, from whom he never lets go and from whom he gives the feeling that he is his greatest confidant and ally.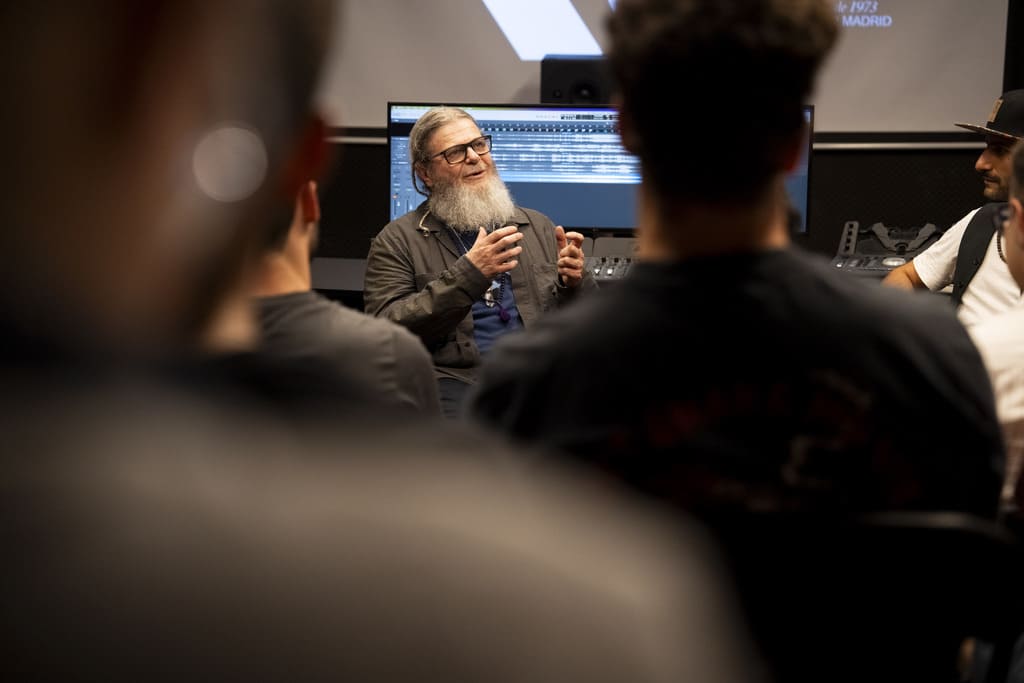 Santaolalla was fully involved in his feedback on the selected works, asking to view them again in each case of the five works, scrutinizing and getting the most out of our very different proposals, all with an absolutely artistic and creative approach.
Beyond the specific notes for each one, as a general conclusion for all, he put on the table the importance of some of the main characteristics that we can find in his film music, that of the minimalist philosophy of ¨less is more¨ and the of silence as a narrative highlighter that unites text, image and music. Letting the actors, the editing, what happens, tell the scene by itself and that the music through the silences is an impulse and an elevation of that dimension.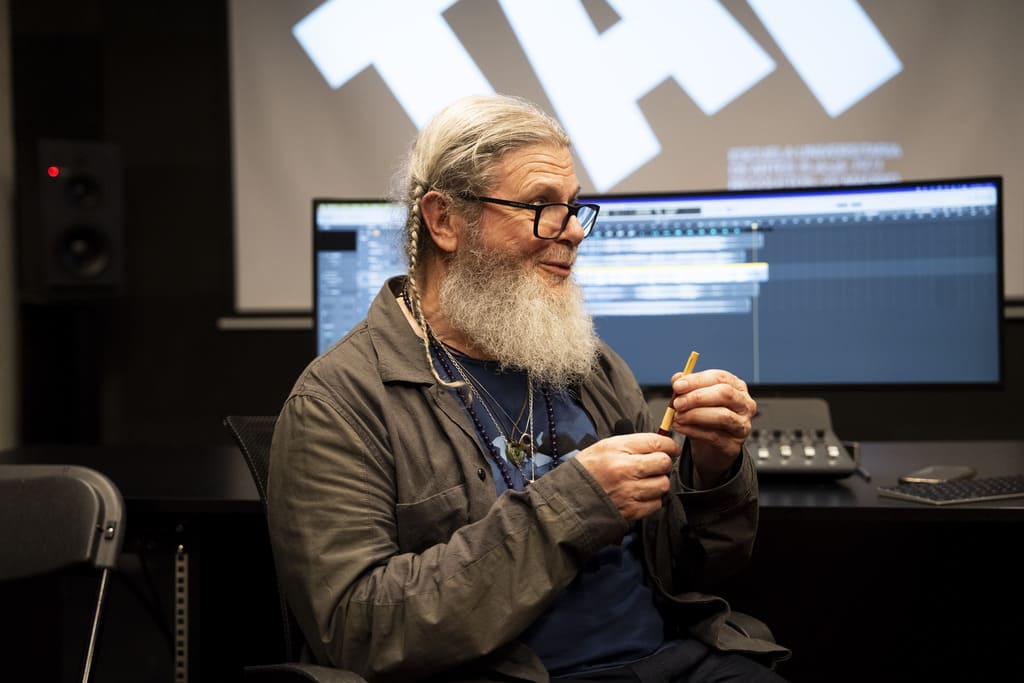 His capacity for astonishment became more than palpable when Alberto Mengs, the luthier with whom we were working to record instruments from different parts of the world and from different times and who had provided us a week before to incorporate them into our pieces, gave him an explanatory tour of the different instruments used.
Perhaps that inextinguishable capacity for wonder is what gives him the wisdom to know when to keep quiet, and when to play.
Identity and authenticity as the only way

"It is important to know who we are; first within ourselves, then in our house, then in our street and in our neighborhood, then in our city, then in our country, then in our continent, then in the world, and then in the universe. ..."
The day closed with a masterclass in the auditorium TAI, which was full as it could not be otherwise, not only with students and teachers from the music area, but also from cinema and other areas. In it, he was telling anecdotes of an entire career as the reference for composers of different generations and the living history of Argentine rock that he is, and focusing on his vision of music, the artistic path and life.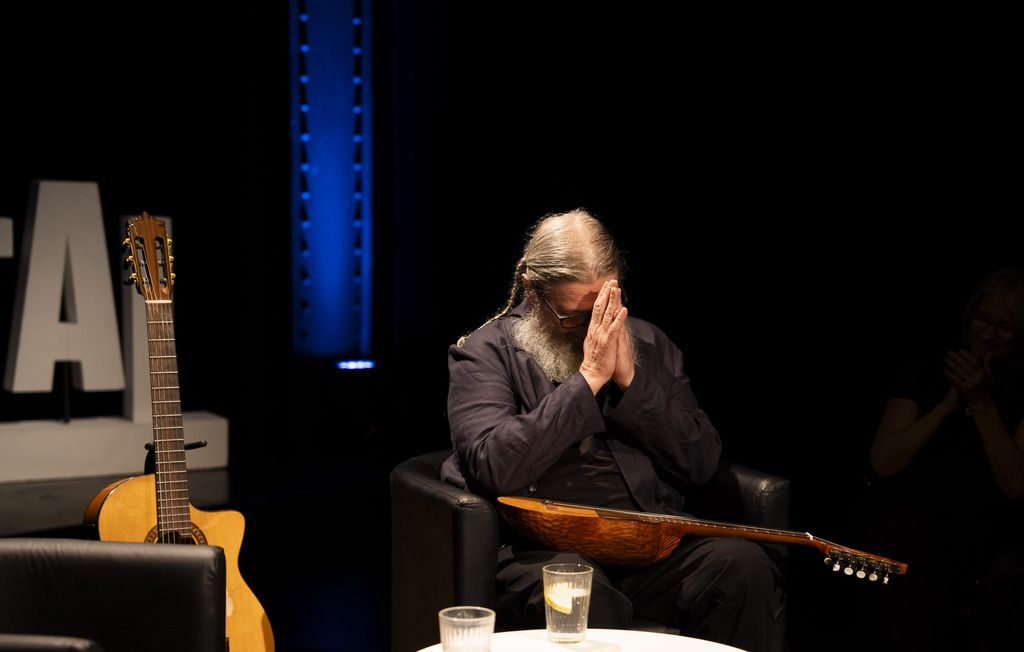 With the humanity and closeness that he treasures and, probably among a few other indecipherable things, is what has brought him to the point where he is in his career, he responded to the questions, concerns and expressions of gratitude for the emotional and sentimental brand who has left his music in many of the students who had the opportunity to ask him and talk to him. "Why do they get so nervous? I don't think it's that ugly", Santaolalla came to say between laughs.
The act closed with gratitude and dedication by playing two songs live with the ronroco, one of his own composition, an Argentine folk song by Leda Valladares and another in which he picked up a Spanish guitar and showed what many were unaware of, his voice and rock that it has inside He gave the feeling that he had stayed for hours.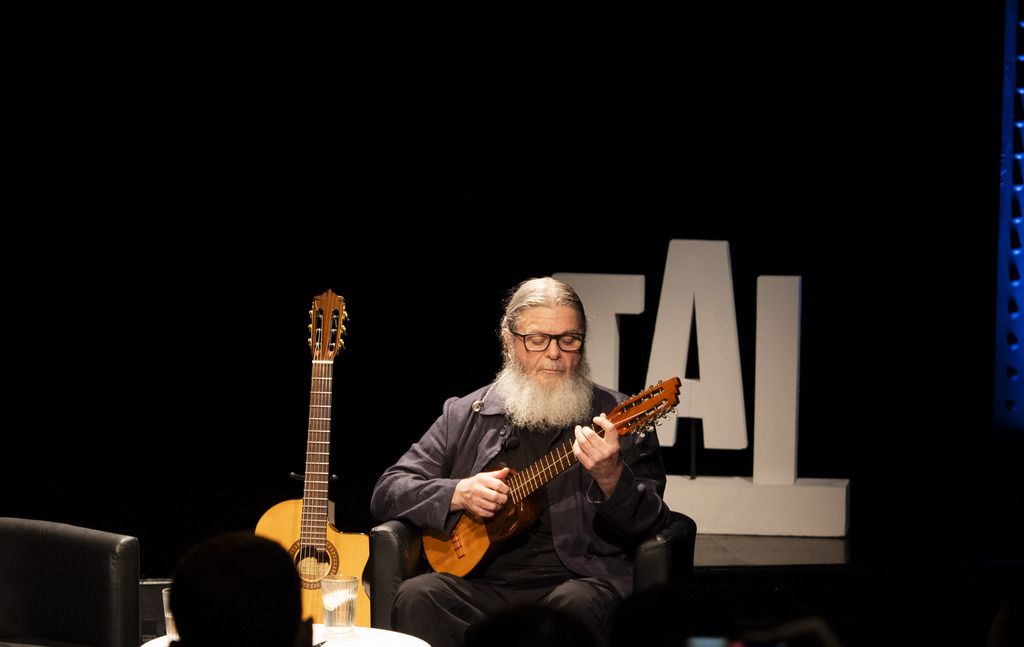 The presence of Gustavo Santaolalla made us see an artist in continuous movement, immersed and reconciled with the times in which he lives, knowledgeable of the different layers of musical creation, of world music, of the roots that come together and germinate. within himself, who does not reject but coexists with the current musical panorama of the industry, and who reflects in his music and his art the work, wisdom and spiritual evolution of a conscious journey on the path of life.
Rafael Domínguez
Alumni TAI
Degree in Contemporary Music Composition
@rafael.dominguezzz